"Of all devotions, devotion to Mary makes for the most effective consecration and conformity to Him, the more one is consecrated to Mary, the more one is consecrated to Jesus" (TD 120)
RP. Nicolas Christiaan Schneiders, SMM
RP. Wilhelmus Johannes Bernardus Peeters, SMM
RP. Yoseph Dwi Watun, SMM
RP. Antonius Arifin Dwirahmanto, SMM
RP. Laurensius Maria Ariston, SMM
RP. Antonius Gatot Wibawa, SMM
RP. Martinus Widyatmoko, SMM
Fr. Siprianus Masjon Kenedy, SMM
RP. Franciscus Borgias Trihandoko SMM
RP. Arnoldus Suhardi, SMM
Fr. Aloysius Banggur, SMM
RP. Heman Joseph Nuwa Nupa, SMM
Fr. Emanuel Bonewentura Ngatam, SMM
RP. Leonadus Bayu Chandra Kartika, SMM
Fr. Kristianus Jumi Ngampu, SMM
RP. Marselinus Ngebu, SMM
RP. Rafael Sevianus Lepen, SMM
RP. Kosmas Ambo Patan, SMM
RP. Fidelis Bolo Wotan, SMM
RP. Willibrordus Krista Selman, SMM
Fr. Mikael Jofri Kelen, SMM
RP. Heredi Suhartono, SMM
Fr. Fransiskus Lawe Danga, SMM
Fr. Fransiskus Lawe Danga, SMM
Fr. Stefanus Musanai, SMM
RP. Robertus Ludok Kelore, SMM
RP. Apolinaris Dari Bani SMM
Fr. Charolus Albertus Leta, SMM
RP. Timoteus Jefriadi Daman, SMM
RP. Yohanes Jefriandi Jedabu, SMM
Fr. Laurensius Gafur, SMM
RP. Joan Baptista Waja, SMM
Fr. Bartolomeus Diaz, SMM
RP. Yohanes Kurniawan Jawa, SMM
RP. Arlusius Hediharto, SMM
RP. Nikodemus Hermiawan, SMM
RP. Oktavianus Klido Wekin, SMM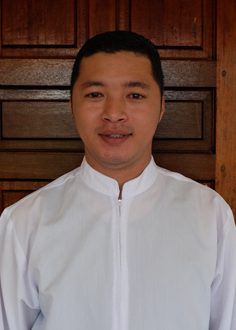 Fr. Bronislawa Saryono Nasredin, SMM
RP. Petrus Sola Dopo, SMM
Fr. Hironimus Edison, SMM
Categorical Communities
Parish Communities
Formation Communities
Outside the SMM Community
Working Abroad
Categorical Communities
1. Provinsialat
Address: Jl. Gunung Kencana 8-10, Ciumbuleuit Bandung 40142, Jawa Barat, Indonesia
Phone: 022-2035443
Fax: 022-2041620
Community Leader: Fr. Rofinus Jewarut,
Economist Community: Fr. Yohanes Jefriandi Jedabu, SMM
Community Member:
                  1. Fr. Antonius Tensi, SMM
                  2. Fr. Nico Schneiders, SMM
                  2. Fr. Nico Schneiders, SMM
2. Biara Deo Soli
Address: Jl. Lintas Timur KM 5, Putussibau 78711, Kab. Kapuas Hulu, Kalimantan Barat 
Community Leader: Fr. Rafael Servianus Lepen, SMM
Economist Community: Fr. Martin Tamur, SMM
Anggota : RP. Stefanus Leba, SMM
3. Rumah Misi Montfort
Address: Jl. Gunung Kencana 8-10, Ciumbuleuit Bandung 40142, Jawa Barat, Indonesia
Tlp: 0565 – 21046
Community Leader: Fr. Yohanes Sumadi, SMM
Economist Community: Fr. Antonius Gatot Wibowo, SMM
Community Member:
                  1. Fr. Jacques Maessen, SMM
                  2. Fr. Antonius Arifin dwirahmanto, SMM
                  3. Fr. Laurensius Maria Ariston, SMM
                  4. Bro. Nikolaus Narimo, SMM
Parish Communities
Formation Communities
Outside the SMM Community
Working Abroad
SMM Indonesia Mission Workplace
1. Eyes are fixed on the Divine Wisdom who became human and came to us.
2. An attentive ear to Maria's answer.
3. A heart dedicated to Jesus and entrusted to Mary.
4. The mouth is filled with the Word of the Bible.
5. Hands raised in prayer.
6. Feet stand under the cross.
7. Eyes on the renewal of the Church and the world.
8. Liberos those whose steps are guided by the Holy Spirit.
9. Walking with other people (the layman) to spread the Good News of Christ to the poor.
10. Become an icon of hope.
Mary is the shortest and safest way to Jesus.
Join with us to be Mary's children...!